CTM PART 2 - CONTACT
A Festival and a Platform for Adventurous Music & Art.
May 24 2022 - May 29 2022
CTM connects multi-perspective experiences, critical reflection, hedonism, and collaborative learning via a yearly festival and continuous collaborative projects, publications, commissions, concerts, club nights, and more.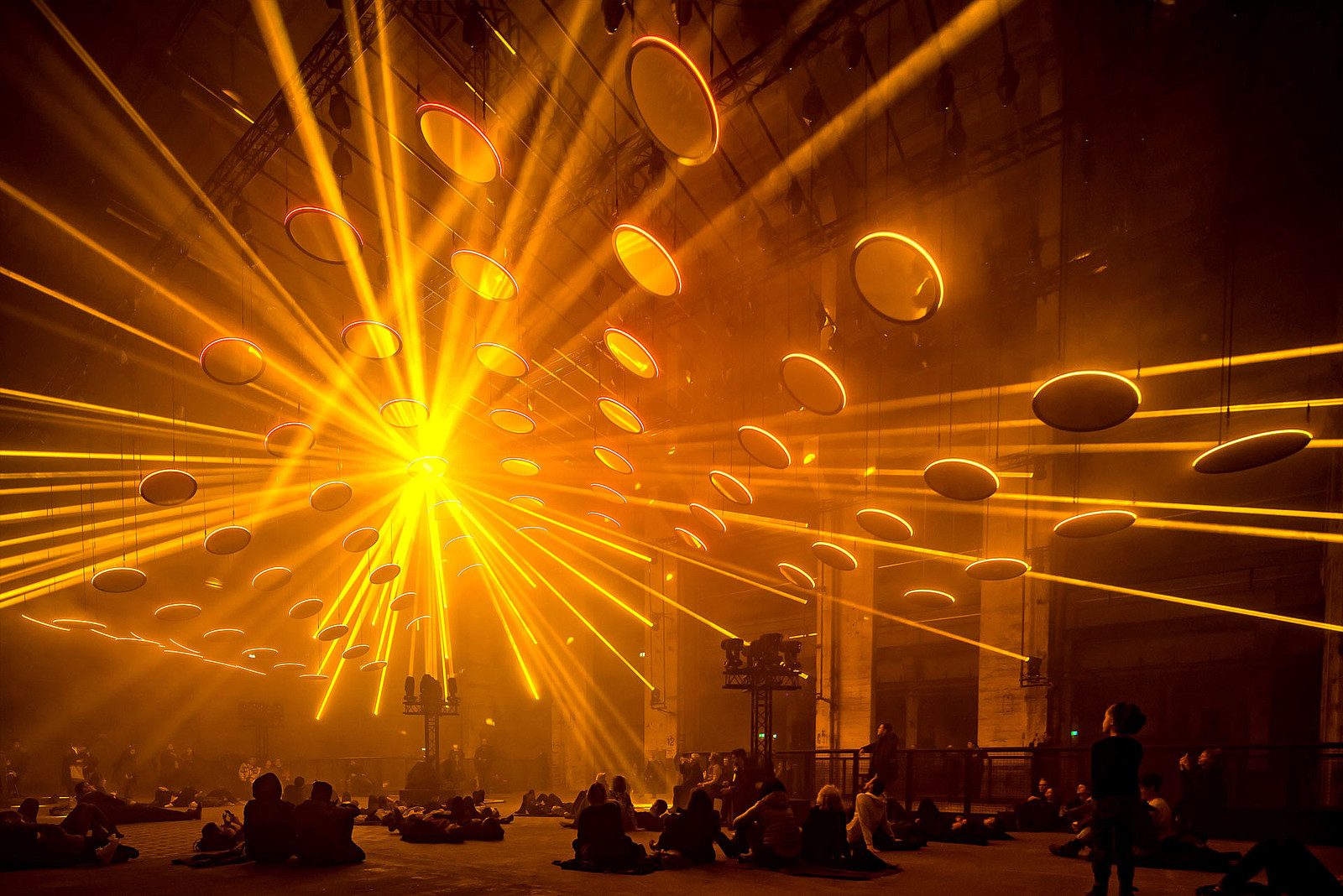 "Skalar" by Christopher Bauder and Kangding Ray, CTM 2019, Kraftwerk Berlin.
Photo by Ralph Larman.


Welcome to Part 2 of our 2022 edition! From the 22nd to the 29th of May we're excited to once again experience the interplay of bodies, spaces, sounds, and music over a six-day programme that blends concerts, club nights, and discourse talks that reflect on the festival's Contact theme. Please check our Festival FAQs and venue Accessibility sections for information concerning your visit.
If you haven't already, we invite you to read our post on how to support Ukraine and Ukrainians. The CTM team is committed to supporting in various ways, among other via the Stand with Ukraine fundraiser concert held on 7 May at Kraftwerk, or by showcasing several Ukrainian musicians and raising funds at our Part 2 events via the Plus 1 – refugees welcome initiative and the K41 community fund.
With the Part 2 music programme, we are looking forward to forging new connections and reuniting with artists, friends, and collaborators that we could not meet throughout the pandemic's 2 years. Special concerts headlining Moor Mother and KOKOKO!; Pussykrew's AI-powered avatars sharing messages of rage, rave and wonder across the city; an excursion into the immersive 4DSOUND system by Grand River; and a four-day Discourse programme that engages with topics such as the more-than-human world, how music and sociality shape each other, and new ideas and potentials that can be discovered from the pandemic, via Goethe-Institut's »Lockdown Lessons« project; partner events at MONOM feat Grand River performing in 4DSOUND and an intimate Senyawa acoustic set at Morphine Raum; radio features with Refuge Worldwide and Hör Berlin; and much more await during CTM festival week.
CTM 2022 Schedule


Pussykrew AR project – / orcl /
In »/ orcl /,« AI-powered avatars arise from deep crevices of the city through mystical portals to queer their urban surroundings, inviting you to listen to their messages from the in-between to reclaim your energy. Their messages, found via QR codes placed across six CTM Festival locations, plus further locations in the city, are accompanied by sound scores specially crafted by local musicians Born in Flamez, Perera Elsewhere, and Ziúr.
The Discourse programme focuses on multiple threads related to »Contact.« Having kicked-off with online sessions at CTM Part 1, the series will continue with hybrid in-person/streamed discussions running 25–28 May at Kunstquartier Bethanien Studio 1. The programme will also be livestreamed free of charge via the CTM YouTube channel. Discourse speakers include: Alkisah network, AM Kanngieser & Zoe Todd, Dhanveer Singh Brar with Edward George, Geoffrey Mak & Via App, Ifeoluwa, Jono Gilmurray, Nakul Krishnamurthy, Shzr Ee Tan & Anjeline de Dios, Susan Schuppli & Faiza Ahmed Khan, and many more.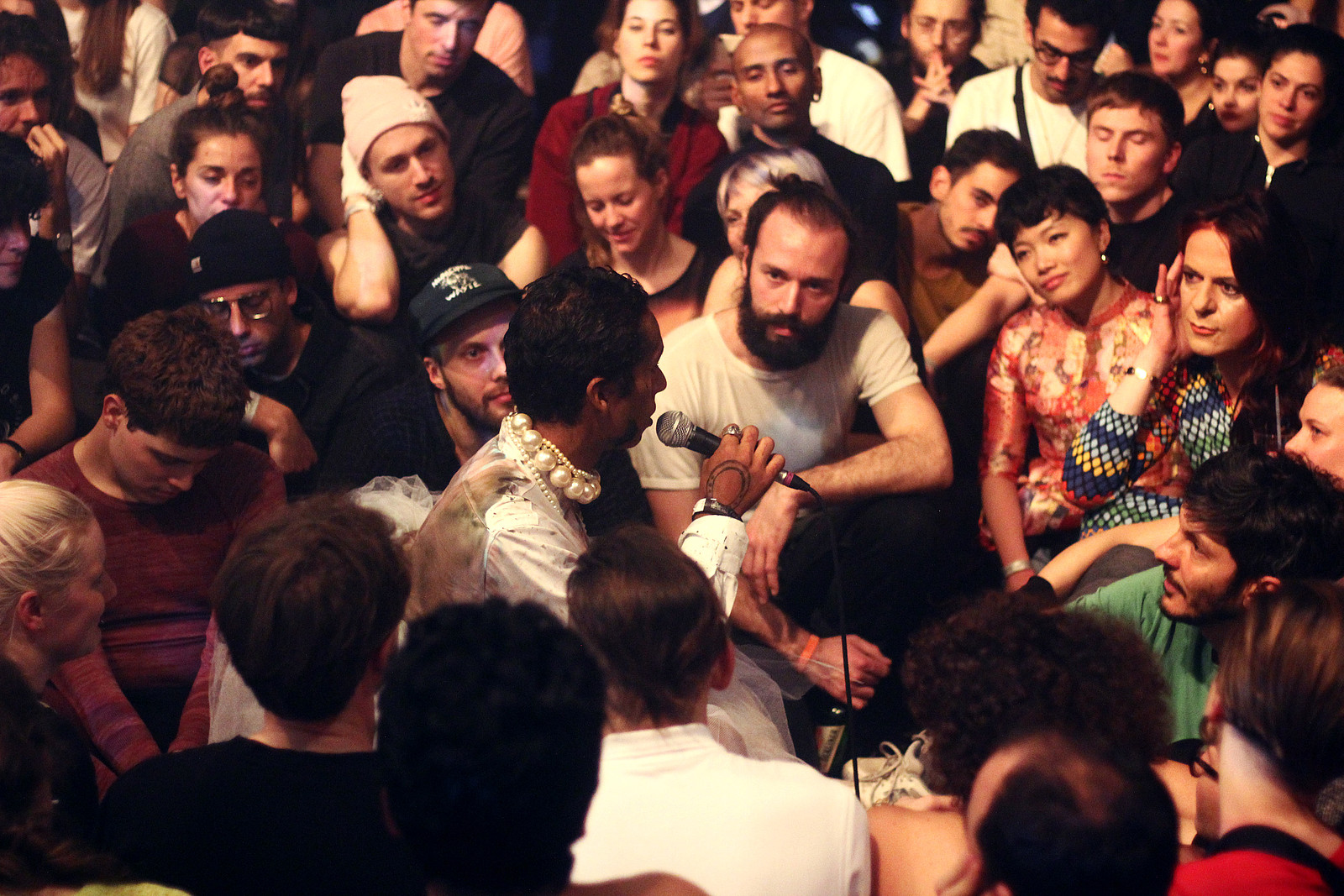 Linn da Quebrada and a touched audience at SchwuZ during CTM 2019.Photo: Selflovetribute, 2019.
MusicMakers Hacklab
The MusicMakers Hacklab is a weeklong format for selected fellows to collaboratively explore and realise new musical ideas reated to the contact theme. During an intense week of collaboration, selected fellows Cecilia Nercasseau Gibson (Cecilia Pez), Cedric Douhaire, Dan Su, Danai Nyandoroh, Francisca Marques, Jacky Kommers (JacqNoise), Judith Konitzer, Karolina Bartczak, Kateryna Khalanska, Kei Watanabe, Kyrylo Shum, Lara Alarcón, Simon Berz, Tanat Teeradakorn, and Verónica Mota will explore and create new musical performance ideas, tools, and techniques, which will be premiered live at the Hacklab Finale on CTM's closing Sunday. The 2022 Hacklab is led by Ariel William Orah and Peter Kirn.
One of the most important things that music and a music festival like CTM can bring about is contact – with diverse sonic worlds, communities, and experiences, but also between traditions, temporalities, geographies. As the social functions of music and festivals have been weakened, and as we grapple with a multiplicity of waves and meanings of »reopening,« CTM 2022 aims to highlight the importance of creating space for many forms of contact, and to reflect on their requirements. How can we revive, rethink, and strengthen music and its spaces of possibility for exchange and emotional resonance? Because without new and challenging forms of contact in the present, we cannot expect a more collective, just, and joyful future.
A good way to support artists in these ongoing pandemic times is to browse and purchase some of their music. We've created three playlists for CTM 2022 – Contact on Buy Music Club, a platform that allows anyone to create and browse lists of independent music purchasable on Bandcamp.
Tickets, Passes and Event Access
Festival passes & tickets to CTM 2022 Part 2 are on sale in limited quantities.
Please check our Festival FAQs and Accessibility sections for questions regarding your visit.
Proof of vaccination/recovery, rapid tests, are no longer required for event access. Masks are likewise not required, with the exception of the MusicMakers Hacklab Input talks at AL Berlin on 23.5. Access rules are subject to change. Please check our Festival Access & Hygiene Rules for updates and details.
For more HERE.
//